W
ELCOME TO THE

V

INEYARD

C

AFÉ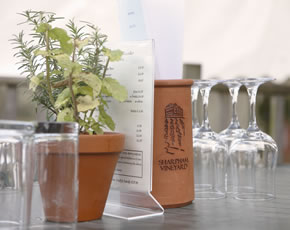 The Vineyard Café will re-open at Easter 2015. If you would like to contact us please email: info@thevineyardcafe.co.uk
Lunch Monday to Friday, 12 to 2pm, Saturday and Sunday 12 to 2:30pm.
Please telephone us with your booking request: 01803 732178.

We do not accept bookings via e-mail and we STRONGLY RECOMMEND BOOKING

Openings are very weather dependent so please call on 01803 732178 to confirm that we are open. Muddy boots and muddy dogs are most welcome if on leads.

The cafe provides alfresco style eating on a small scale, with stunning views over-looking the River Dart.
If it is busy, please be prepared to wait, as all food is cooked to order. The menu is refreshingly small celebrating the best of local, organic and Westcountry produce.
Other light refreshments are available including: Tea & Coffee, Fruit Juices, Cakes and Ice cream.